A Note From Our Founder.
Friends,
When I started this company, it was with one goal in mind: To market a high-quality, fun, innovative novelty T-shirt that combined the face of late night titan Jay Leno with the iconic imagery of similarly-first-named Cuban revolutionary Che Guevara.
We went live with a soft-launch of our product late last night (November 19th), a T-Shirt we dubbed the "Che Leno":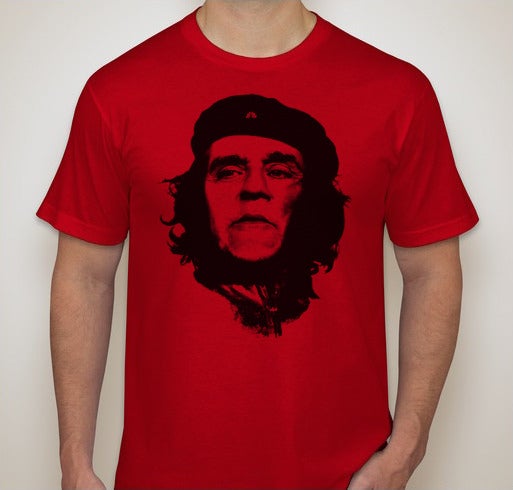 The response was overwhelmingly one of negativity and confusion.
In the first few hours post-launch, we received a tidal wave of mocking tweets: 
@Berrrodie: I'm sorry, but who's face is on that shirt? like Rocky or something

@KeeferD420: Schwarzenegger with a little ape in the chin?

@Atencio: I thought it was the Fratelli mom from Goonies.

@NickfromIslands: I think it's Willem Dafoe DISGUISED as an ape

And so on. I went into "spin mode" and had something of a public meltdown. I will admit: I lost it. I was entirely too revealing about the financial situation that manufacturing 15,000 of these shirts has put me and my family in. I begged my followers, only half-joking, for tips on a quick death. What began as a fun dream to cash in on the novelty T-Shirt craze immediately became a living nightmare. There's no need to go into it here, but in the interest of transparency I have decided not to delete any of these embarrassing posts from my timeline. Ultimately, they are not important. What is important:
You have spoken, and we must listen.

That's why today, JeShirt.com is announcing a MAJOR revamp of our product line with the launch of our new T-Shirt, the "Jay Guevara":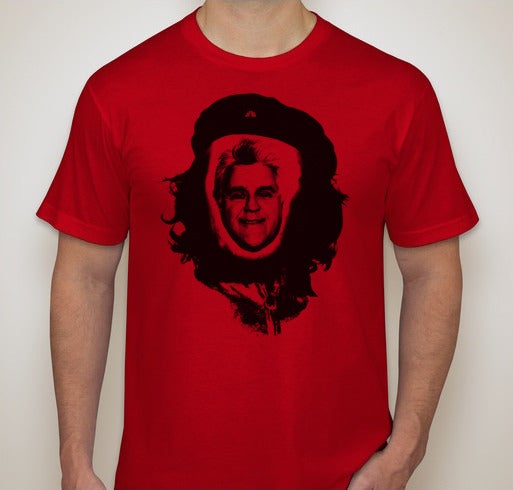 We think you will agree that this sets our ship back on course. We feel strongly that this new design leaves little to no room for confusion with regards to who the shirt is depicting. We have doubled down and are committed to going as deep into the hole as we need to until we hit fresh air on the other side. I have egg on my face, and I am fully prepared to lick it clean off.
I cannot thank you enough for coming along with me on this journey, and I pray that you will buy this shirt.

-  Jason Samuel Woliner
    JeShirt.com